Tiny Love's Sound 'N Sleep lets parents create a personal soundtrack for baby's sleep
27 March 2018 • 3 min read
Connecting a soother with your very own music makes it unique. It comes alive – it makes it 'you'. Let's meet designers Ido Segal and Noa Gur, the creative brains behind Tiny Love's new sensing soother – allowing you to play your own greatest hits to your baby.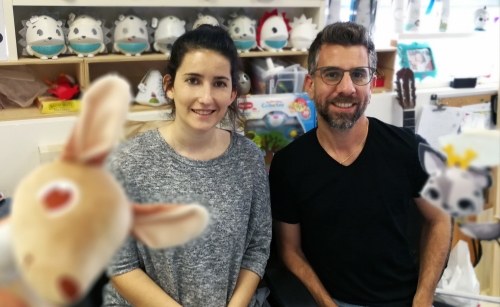 What insight led to the design of the Meadow Days™ Sound 'N Sleep Projector Soother™?
Ido: "More and more parents let their babies sleep in a so called 'clean' bed. No distractions, no toys, no playful mobiles. This trend originates from advice given by health institutions and it is picking up quickly."
Noa adds: "Parents look at the nursery as an inspirational environment and are searching for other solutions to help sooth and relax their babies. The design of Sound 'N Sleep fills that need."
What is so unique about Sound 'N Sleep?
Noa: "The soother goes beyond all the common features you would expect from a soother – the built-in MP3 lets parents create a perfect personal soundtrack for their baby's sleep. Besides that you can also choose from 17 preset lullabies or 5 white noise options. A specially designed cry sensor carefully monitors babies, so if they wake up in the night, the soother automatically turns on a warm nightlight and music, lulling baby back to dreamland."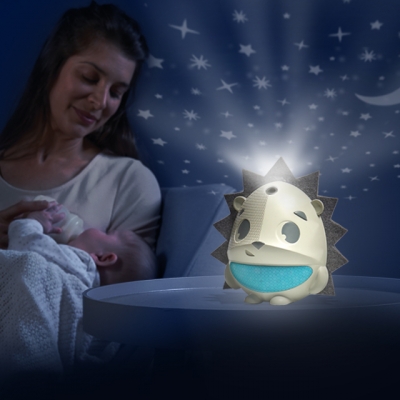 How did you start with the development?
Ido: "Paper and pencil! And then at a certain point these sketches come to live and you hold that very first model in your hand. Mind you, this is not a prototype or anything. It is when a one-dimensional idea becomes a three-dimensional solution. This is the best phase of the design process!"
The Meadow Days™ Sound 'N Sleep™ Projector Soother will launch soon – Check out www.tinylove.com for more details.