Dorel Juvenile's brands are real winners!
22 March 2022 • 5 min read
From car seats to the latest technology in home equipment and parenting must-haves, Dorel Juvenile's wide range of products deliver confidence and ease to support every parenting journey.
 
Last year, Maxi Cosi, Safety 1st, Tiny Love and Mother's Choice took home several awards. Consumers recognized us in the child safety, parent lifestyle and great design areas, from all corners of the Globe!
 
Maxi Cosi's Coral XP, launched in August 2020, took home 3 awards in 2021! Don Bryce, VP of Product, USA shares his happiness with us:
"It has been so meaningful to be a part of the Coral XP project – a product that truly revolutionizes how infants are carried.  Knowing that we can make a big difference in new parents' lives, making it so much easier to run errands, visit friends and family, to travel – to lower the challenge of going out so parents feel excited to explore the world with their baby." he says.
These awards fill us with such pride! Robert Dresen, Marketing Director Europe & Head of Global Brands also feels encouraged, saying:
"The awards are always (…) a great inspiration to continue working on amazing and innovative products, with the highest safety standards."
Indeed, our trusty car seats and strollers always win parents' hearts, year after year. But this past year we were also a leading brand on home safety products and baby toys. See below a few of our biggest achievements: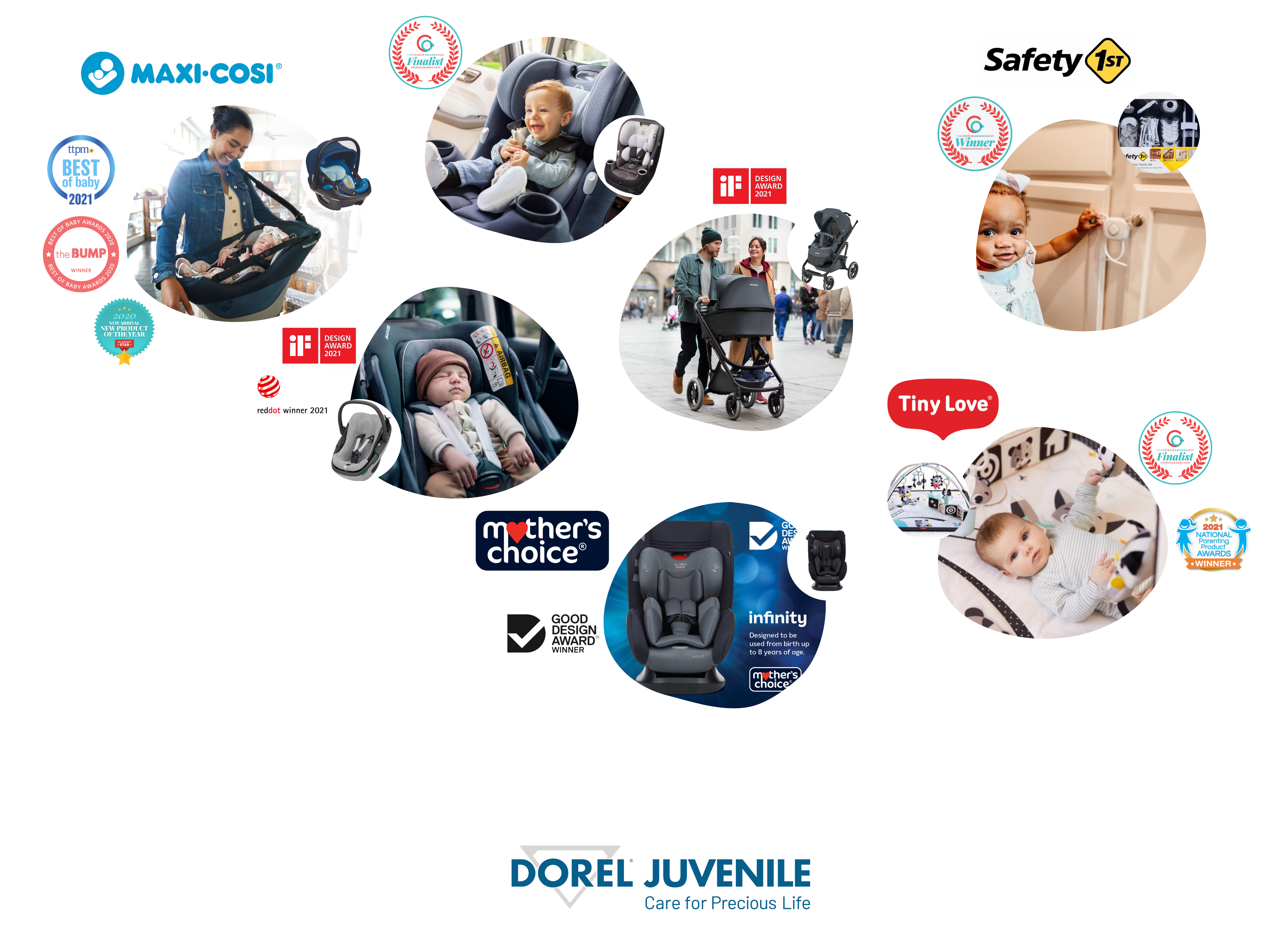 It's time to celebrate! Join us in this commemoration and read on to find out more about other Dorel Juvenile's recent awards...
 
Maxi Cosi
Maxi-Cosi Pebble 360 & Familyfix 360 Base –

4 Star Rating

–  Stiftung Warentest
Maxi-Cosi Tinca & Tinca Base –

4 Star Rating

–  Stiftung Warentest
Maxi-Cosi Marble –

4 Star Rating

–  Stiftung Warentest            
Maxi-Cosi Coral –

4 Star Rating

–  Stiftung Warentest
Maxi-Cosi Coral/Coral 360 –

Silver Award

– Europe Product Safety Awards
Maxi-Cosi Coral –

Gold Award

Best Newborn Car Seat – Mother & Baby Awards
Maxi-Cosi Coral –

Gold Award

Innovation of the Year – Mother & Baby Awards
Maxi-Cosi Iora –

Gold Award

Best Cot, Crib or Moses Basket – Mother & Baby Awards
Maxi-Cosi Minla –

Gold Award

Best Highchair – Mother & Baby Awards
Maxi-Cosi Mica –

Silver Award

Best Baby/Toddler Car Seat – Mother & Baby Awards
Maxi-Cosi Iora Bedside Bassinet -

Innovation Awards Winner

Nursery category – JPMA Awards
Maxi Cosi Tayla XP Travel System –

Winner Standout Strollers & Car Seats

– Good Housekeeping's Parenting Awards
Maxi Cosi RodiFix Booster Car Seat,

2021 NAPPA award seal renewals

Maxi Cosi Kori 2-in-1 Rocker,

2021 NAPPA award seal renewals

Maxi Cosi Pria Max 3-in-1 Convertible Car Seat,

2021 NAPPA award seal renewals

Maxi Cosi Lila Modular Stroller System,

2021 NAPPA award seal renewals

Maxi Cosi Lara Ultra Compact Stroller,

2021 NAPPA award seal renewals

Maxi-Cosi –

Best Baby Car Seats Award

– Canstar Awards
 
Tiny Love
Tiny Love Magical Tales Black & White Gymini –

Gold Award

Best Baby Toy – Mother & Baby Awards
Tiny Love Boho Chic 2-in-1 Rocker –

Best Rocker

– TTPM Best of Baby Awards
Tiny Love Meadow Days Take Along Mobile Crib Toy –

Winner

Best Crib Toys – Mom's Best List
Tiny Love Boho Chic Luxe Developmental Gymini –

Finalist

– ADDY Awards
 
Safety 1st
Safety 1st "Find your Parenting Style Quiz" -

Winner

for Top Personality Quiz

-

Virtual Jebbies Award
Safety 1st "Signs of the Times" brand activation -

Gold

ADDY Award Online/Interactive category – ADDY Award
Safety 1st "TestiMOMials" Humidifier Videos -

Gold

ADDY Award Internet Commercial category – ADDY Award
 
Mother's Choice
Mother's Choice's Infinity Car Seat –

Winner

– Good Design Awards
 
Dorel Juvenile Europe Ultrasound Roadshow
Dorel Juvenile Europe Ultrasound Roadshow 2020 –

Silver Award

for Roadshow – Global Eventex Awards
Dorel Juvenile Europe Ultrasound Roadshow 2020 –

Silver Award

for Brand Experience – Global Eventex Awards
A BIG thank you to our consumers for choosing us, and to our passionate and dedicated colleagues, for making this past year a winning year for Dorel Juvenile! ❤️