Maxi-Cosi launches a new sustainable car seat, designed for the future
24 March 2022 • 5 min read
Maxi-Cosi is on a journey to a more sustainable future - and it all starts with the exciting new launch of the Mica Pro Eco; a unique, future-focused car seat, made using Eco Care - an innovative planet-friendly, 100% recycled fabric.
Maxi-Cosi doesn't just carry the future, they care about the future. That's why their commitment to tomorrow, can be found in their products today.
The newly launched Mica Pro Eco car seat is Maxi-Cosi's benchmark in safety and comfort, and features an innovative new material called Eco Care, which is 100% recycled fabric made from plastic (PET) bottles. Built to the highest i-Size safety standards, the Mica Pro Eco combines best-in-class comfort with future-focused fabrics, to create the first sustainable car seat of its kind. This is the future of car seats.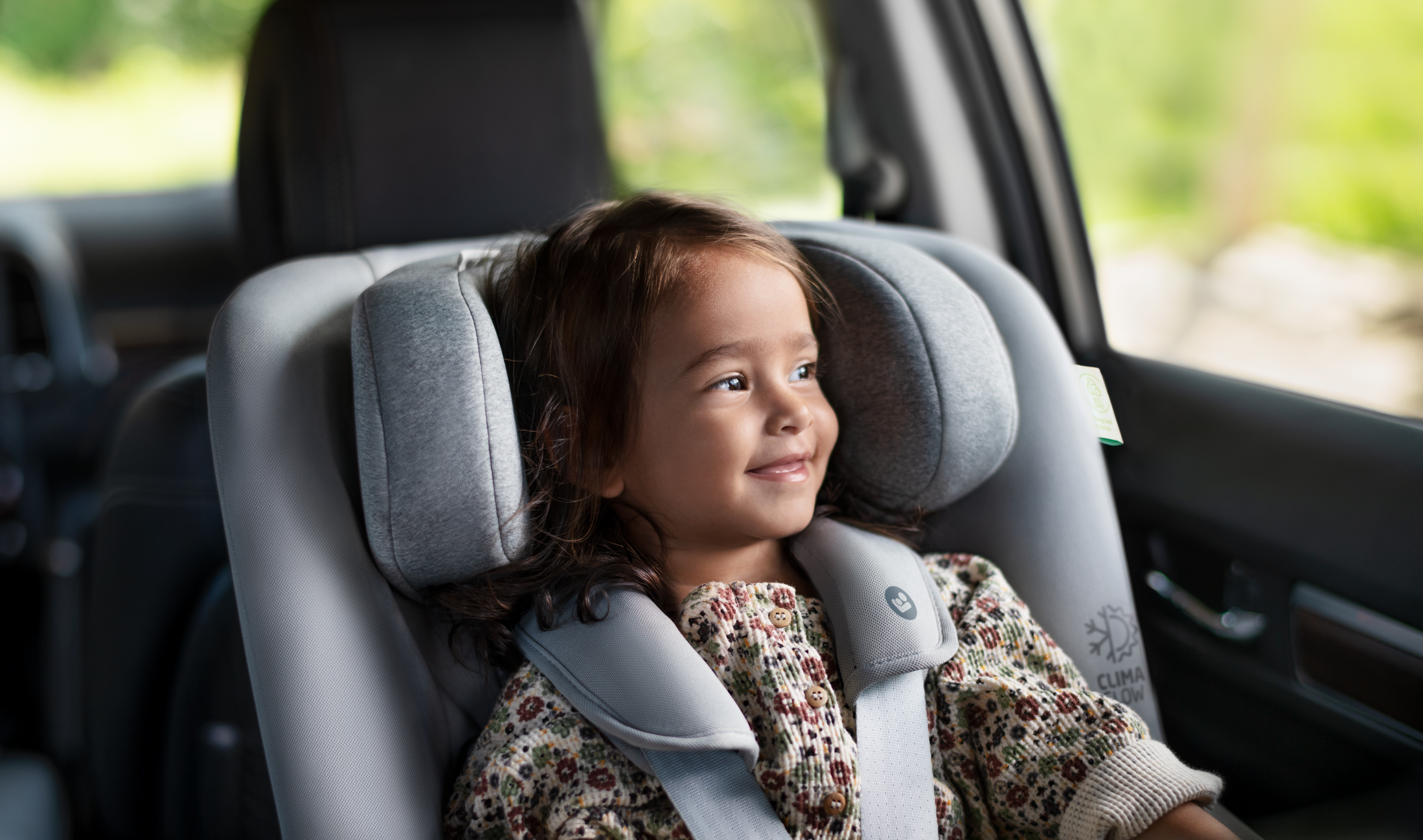 "Our dedication to safety and comfort has made us the most trustworthy and reliable car seat brand across Europe. Our commitment to sustainability and our aim to give children the best possible start in life, has led us to develop the new and highly innovative, Eco Care fabric."
Product Marketing Director Guillaume Sauvetre, Dorel Juvenile Europe
Care for today & tomorrow
Maxi-Cosi is dedicated to developing sustainable products that help safeguard our environment. Eco Care fabric is soft, breathable and offers best-in-class comfort and it's made from 100% recycled plastics. Sustainability is a key consideration for young families when deciding which product to choose. The Mica Pro Eco is the first of many more Maxi-Cosi car seats to be launched under the Eco Care label.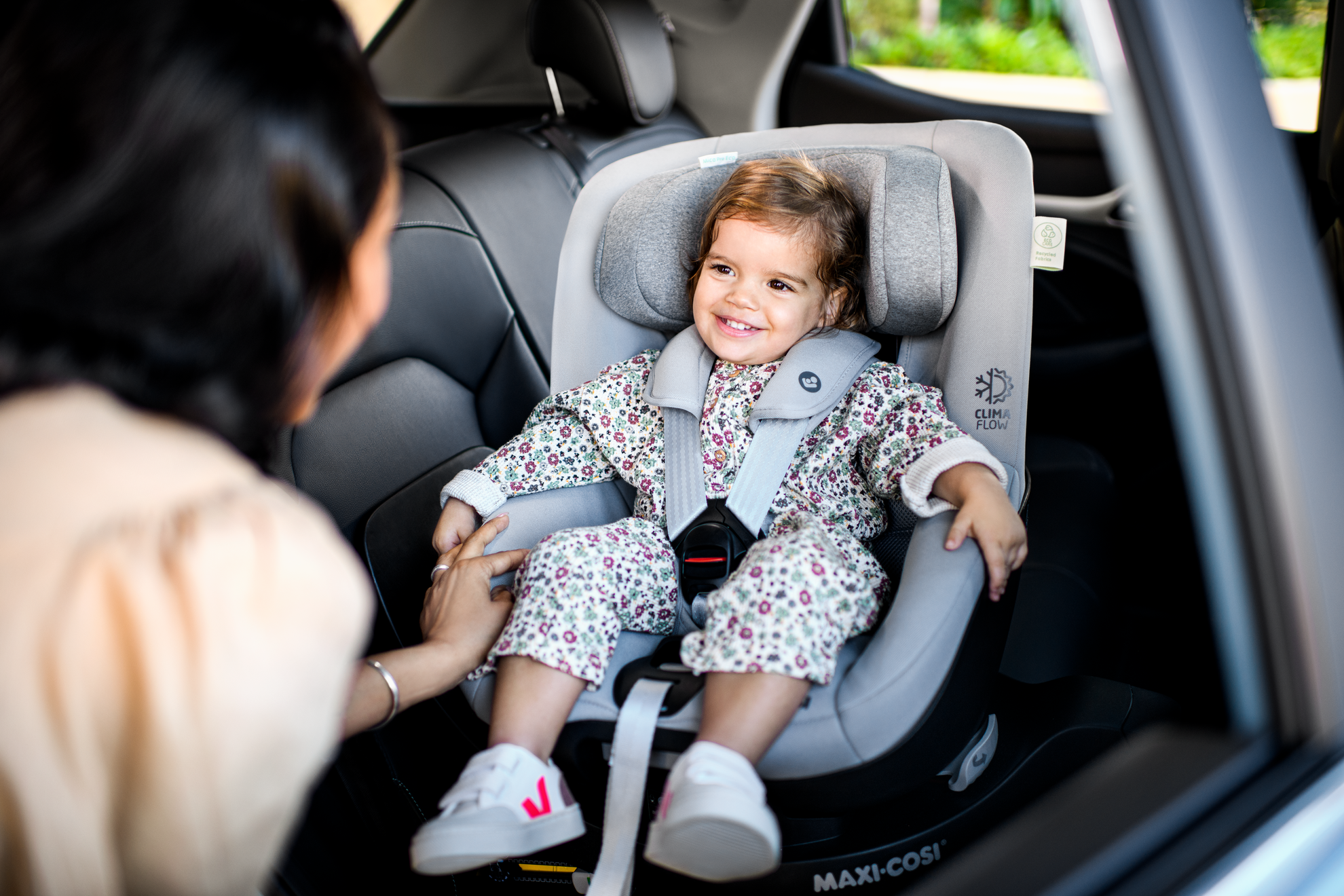 "New Gen Z parents expect brands to take the lead in the transition to a more sustainable future. We take this very seriously. We don't want to green wash here or provide general claims – it is essential that we stay focused on what we deliver: premium products, providing the best safety, with modern design – and more sustainable, every day." 
Robert Dresen, Marketing Director, Dorel Juvenile Europe
How does Maxi-Cosi turn plastic bottles into soft, sustainable fabrics?
It takes nineteen plastic (PET) bottles to make the material in every Mica Pro Eco seat.
First, the plastic is broken down into pellets, then it's spun into thread and woven into fabrics. Providing the same soft, comfortable, breathable qualities you'd expect from a premium Maxi-Cosi fabric.
And compared to regular PET production, using recycled PET bottles leads to 70% less energy consumption, 85% less water consumption and 75% less CO2 emissions throughout the entire production process.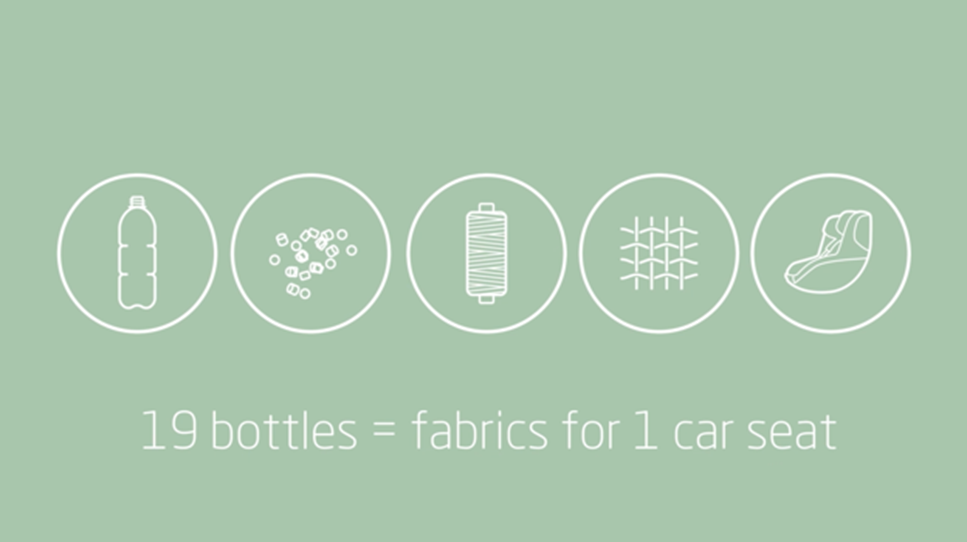 Years of safety, comfort and sustainability
For parents, nothing's more important than the safety and comfort of their children. The new Mica Pro Eco is built to today's highest i-Size safety standards. G-CELL 2.0 Side Impact Protection adds an extra built-in guard and provides maximum protection with improved 3D impact absorption​ from multiple angles, to ensure baby's safety.
Thanks to the Easy-in harness system, it is quick and easy to get children in and out of the car and the smart built-in FlexiSpin rotation makes the seat smoothly rotate 360°, using only one hand.
The car seat can be used directly from birth thanks to the comfortable Baby-hugg inlay and used up until children are 4 years old.
Designed with multiple recline angles and extra padding, it delivers best-in-class sleep comfort for little ones when travelling. With larger ClimaFlow panels and breathable fabrics to maximise air circulation, children will always be at a comfortable temperature.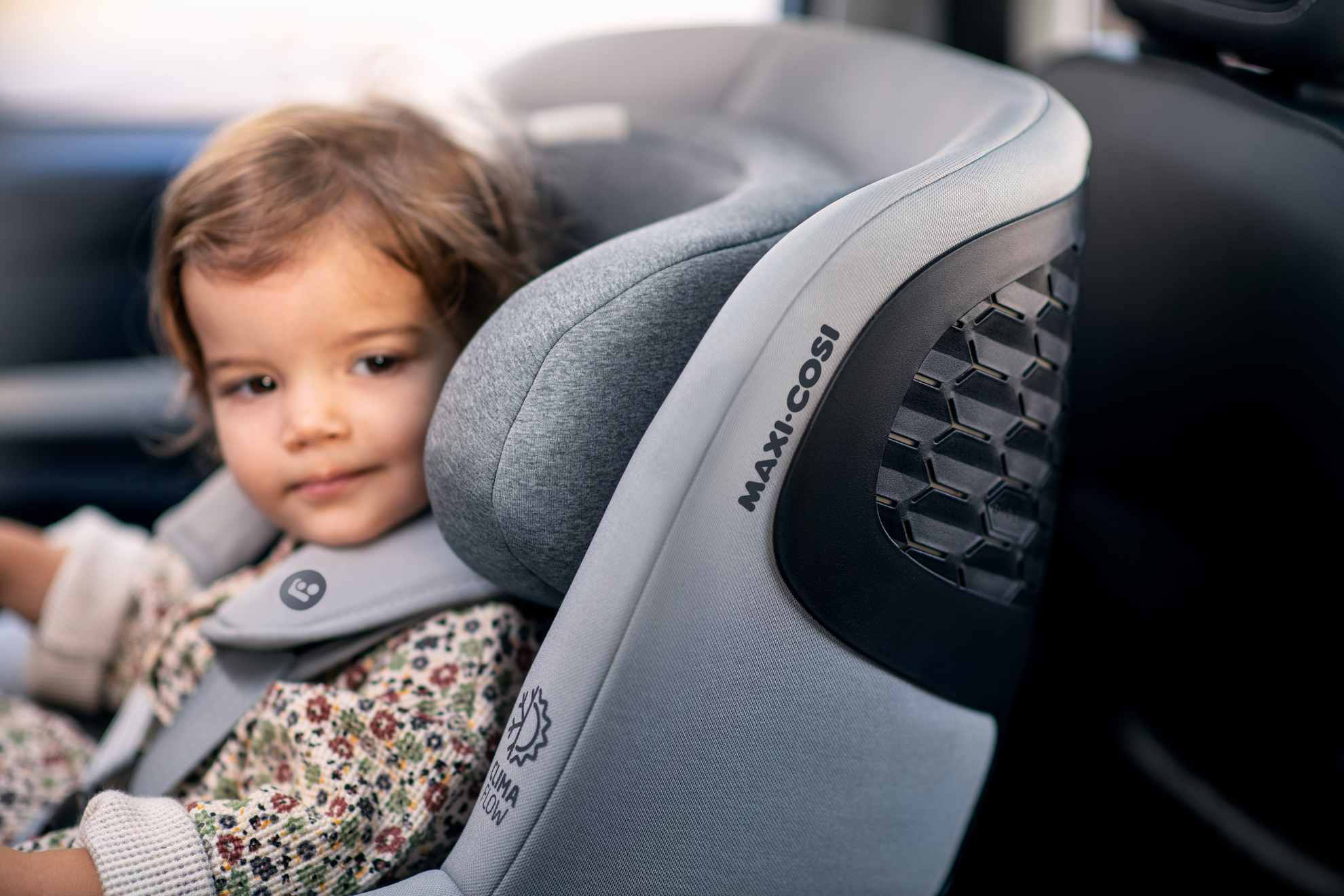 Small sustainable steps make a big difference
As all parents know, children copy the behavior they see around them. So if we want them to respect the planet and live more sustainably, we have to lead by example. Here are our top 5 family-friendly tips on teaching children to be more sustainable:
Recycle.

Create a family recycling station and teach children how to separate plastics, paper and glass. Show them all the amazing things they can be made into – like Eco Care fabric!

Grow & Garden.

Whether you have a small window box or a garden, get children planting seeds and watching them grow into flowers or food they can eat. When shopping for groceries, buy

local to support your local farming community

.

Save energy.

Teach children to always switch lights off and electronics when not in use.

Reuse.

Teach children how to make things last. Take your own reusable travel water bottles everywhere you go and keep refilling.

Conserve water.

Teach children to always turn the tap off when brushing their teeth, and time them and see how quickly they can take a faster, shorter shower.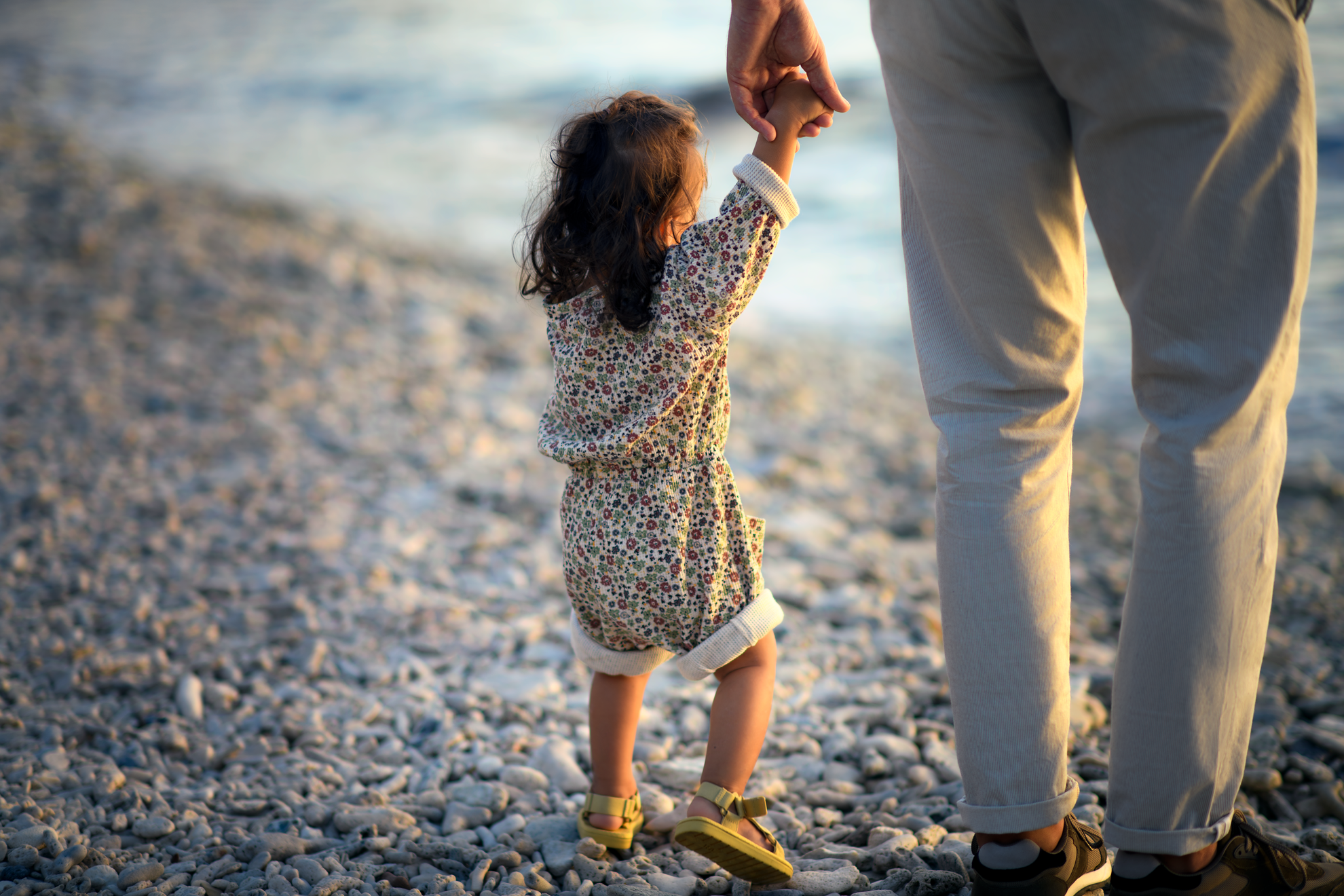 --------------------
About Maxi-Cosi
The Maxi-Cosi trusted brand was born in 1984. Starting with the first important task: Maxi-Cosi has carried over 50 million babies home from the hospital. Since then, the brand's safe and comfortable car seats and strollers can be found on the first day of pre-school, at birthday parties, park picnics, and every moment in between. Products that are the next best place after parents' arms. And because besides their arms there is no place like home, Maxi-Cosi introduced a brand new range of products for the home in 2019. Standing by our singular promise: whatever the future carries, we carry the future.
About Dorel Juvenile
Dorel Juvenile, a segment of Dorel Industries, Inc. (TSX:DII.B, DII.A) is a world class juvenile products company. Dorel Juvenile's powerfully branded products include global juvenile brands Maxi-Cosi, and Tiny Love, complemented by regional brands such as Safety 1st, Cosco, Bebeconfort and Infanti. Dorel Industries Inc. has annual sales of US$2.8 billion and employs approximately 6,600 people in facilities located in 22 countries worldwide.