Maxi-Cosi introduces the future of car seats to make parents' daily life easier
14 April 2023 • 5 min read
Maxi-Cosi, the leading specialist brand in safe transportation solutions for babies and children, has launched a new car seat range, the new 360 Pro Family. This is a world-first and unique family of comfortable, ergonomic car seat solutions that can both rotate and slide toward the parent!
Did you know that over 90% of parents with children aged 0-4 experience physical discomforts, such as backache and head bumps, when taking their children in and out of their car seats? With a strong track record of consumer-centric, safety-focused car-seat innovation, Maxi-Cosi was well-placed to develop a solution to this challenge.
With its innovative 360 Pro Family range, Maxi-Cosi is again leading the way in car-seat innovation.
The future of car seats
Maxi-Cosi just launched the innovative 360 Pro Family, equipped with the patented SlideTech™ technology. This is the only car-seat base of its kind that slides out of the car for the easiest child installation. No more backache, head bangs, or struggles: simply lock, slide, spin, and go!
Setting a new standard for comfort and convenience
All 360 Pro Family products are designed to support the backs of both parents and children, thanks to the innovative FamilyFix 360 Pro car seat base.
Besides the innovative SlideTech™ technology, the FamilyFix 360 Pro slide-out base features FlexiSpin, a 360° rotative system that enables the compatible Maxi Cosi car seats to be easily rotated with only one hand in any reclined position.
Together, SlideTech™ and FlexiSpin allow parents to rotate and slide their car seat in and out of the car. This creates more space and visibility to secure their car seats in the car and lift their children in and out of their car seats, without straining their backs or bumping their heads. As a result, the installation is much quicker, easier, and more ergonomic, and helps to improve safety.
Guillaume Sauvetre, Dorel Juvenile Europe's Product Director says:
"At Maxi-Cosi, we continuously work to develop the safest, most comfortable solutions. We designed the 360 Pro Family to solve parents' biggest frustrations with taking their children in and out of the car seat – such as buckling, having not enough space to move in and around the car, and bumping their head on the car door frame. Its features mean all you have to do is lock, slide, spin, and go – making car seat struggles a thing of the past!"
Designed for ultimate comfort
Parents can enjoy the FamilyFix 360 Pro's benefits with two new car seats that offer the best sleeping position for babies and toddlers thanks to its unique extended recline positions: Pebble 360 Pro and Pearl 360 Pro. These seats provide excellent safety and comfort for children aged 0-4 years old, as well as ease of use for their parents.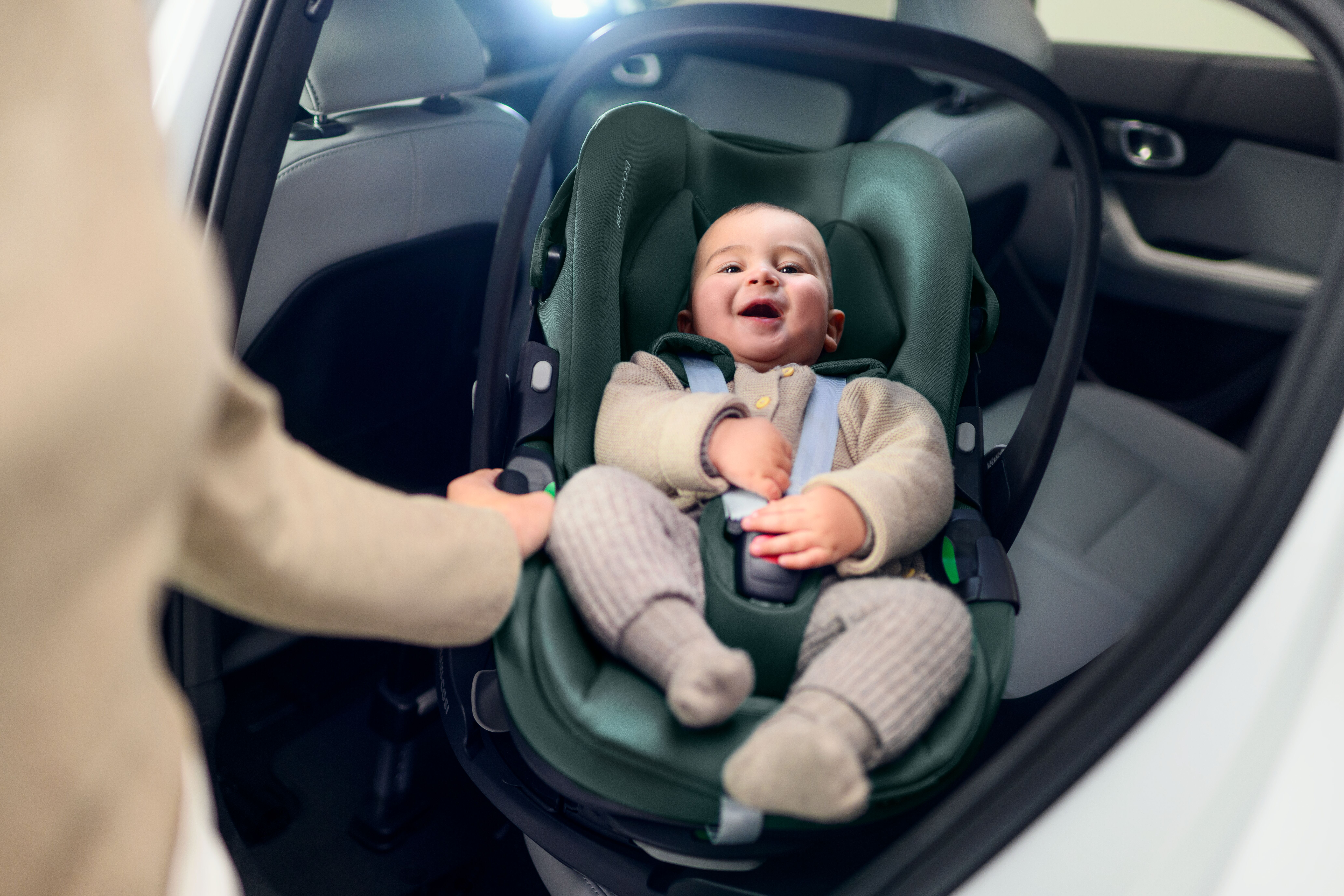 The Pebble 360 Pro delivers maximum sleep comfort for babies aged 0-15 months. The seat features three recline positions, including a unique full lie-flat position that can be used in both cars and strollers.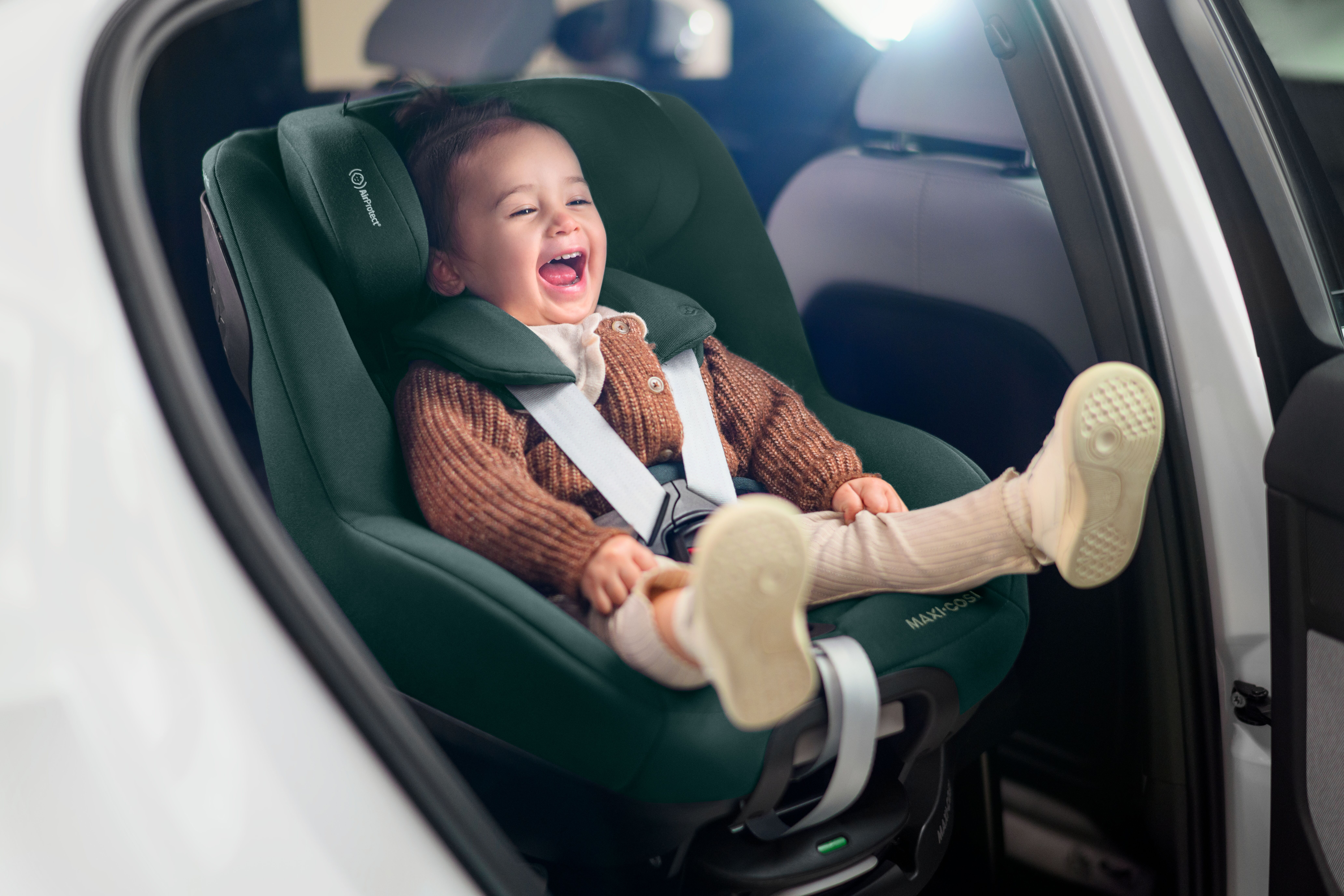 The Pearl 360 Pro features five recline positions, offering superior comfort for toddlers whether awake or asleep.
Compliant with the highest safety and quality standards
All 360 Pro Family products have been designed to meet the highest i-Size safety standards, including safety features such as an anti-misuse lock to secure rearward-facing travel for up to 15 months, integrated ISOFIX connectors, and visual indicators to confirm proper installation. These safety levels are confirmed by rigorous testing – not only against the latest legal standards but also against Maxi-Cosi's even higher internal quality and safety standards.
The 360 Pro Family complies with the latest and safest regulation standards in Europe: i-Size ECE R129, and showed excellent safety and durability in Maxi-Cosi's internal tests. The products have also been evaluated, approved, and endorsed by independent healthcare professionals, and have received the Aktion Gesunder Rücken (AGR) Seal of Approval for products that protect against back pain.
Raul Sepulveda, President and CEO of Dorel Juvenile Europe shares with us:
"Since our earliest days, Maxi-Cosi has pioneered technologies that make parents' lives easier – always guided by what they need and want. We have earned the trust of parents worldwide, safely carrying over 60 million babies home from the hospital. Now, with the world's first sliding car-seat technology, we are once again shaping the future of transportation for children."
About Maxi Cosi
Maxi Cosi embraces both heritage and innovation, inventing the car seat category in Europe over 40 years ago. We have earned the trust of parents worldwide, safely carrying over 60 million babies home from the hospital.
Maxi Cosi sets the standards and leads the way.
About Dorel Industries
Dorel Industries Inc. (TSX: DII.B, DII.A) is a global organization, operating two distinct businesses in juvenile products and home products. Dorel's strength lies in the diversity, innovation and quality of its products as well as the superiority of its brands. Dorel Juvenile's powerfully branded products include global brands Maxi-Cosi, Safety 1st and Tiny Love, complemented by regional brands such as BebeConfort, Cosco, Mother's Choice and Infanti. Dorel Home, with its comprehensive e-commerce platform, markets a wide assortment of domestically produced and imported furniture. Dorel has annual sales of US$1.6 billion and employs approximately 4,000 people in facilities located in twenty-two countries worldwide.