Maxi-Cosi launched a new breakthrough range of innovative, smart, sensory nursery products, all controlled by one app
11 March 2022 • 3 min read
To answer the growing needs of today's digital-native parents, Maxi-Cosi has launched a stylish new range of sensorial nursery products called 'Connected Home '. Four smart products are designed to give parents confidence and peace of mind, by allowing them to always feel connected and close to their baby. Even when they're apart.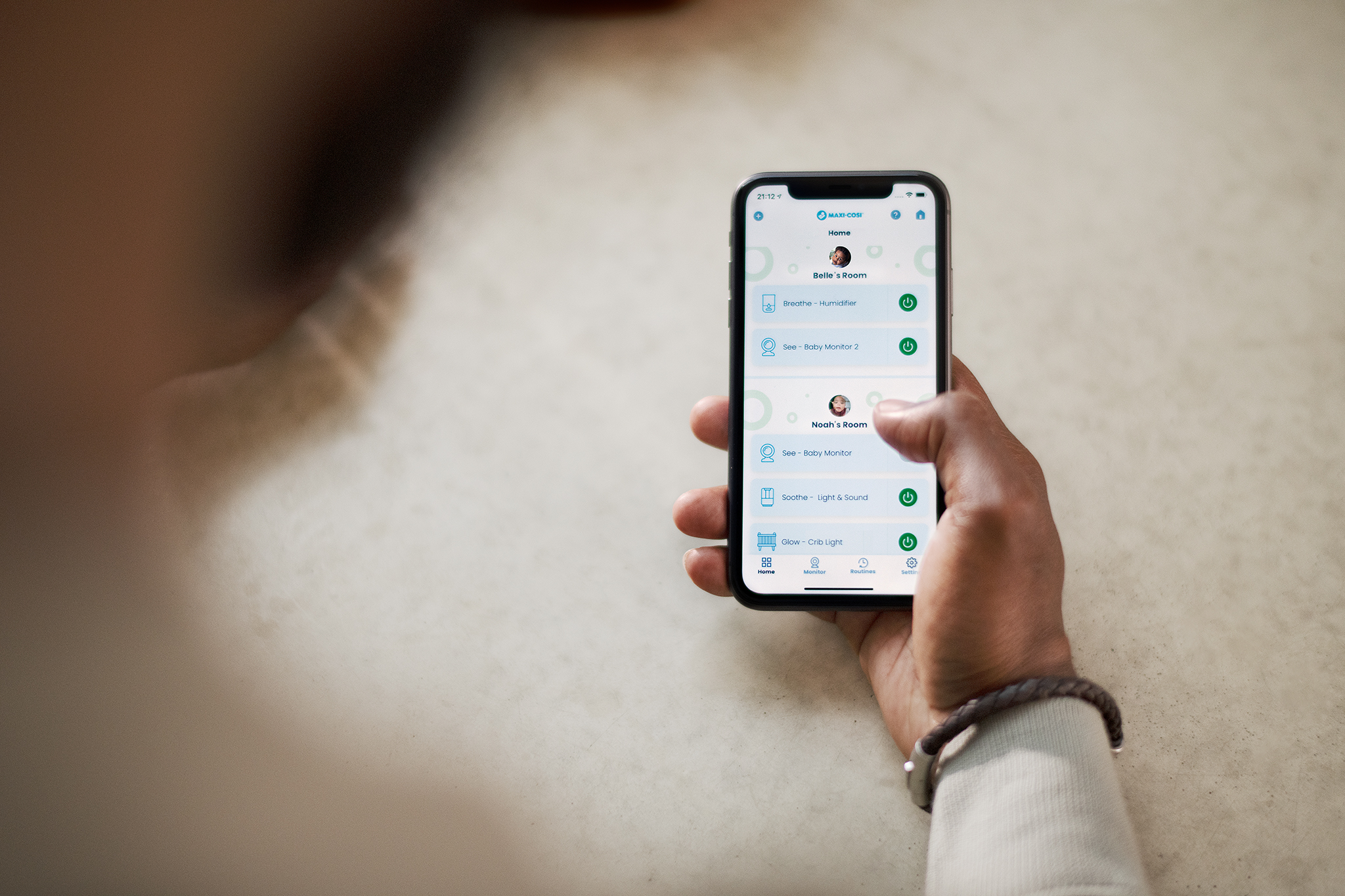 Parenting is the most important job in the world, and knowing your child is safe and happy is the No.1 priority for every parent on the planet.
Maxi-Cosi is dedicated to giving parents the tools and products they need, to help reduce any anxiety or stress in today's 'always on' world.
Connected Home is designed for families today; the range consists of See Baby Monitor, Breathe Humidifier, Soothe Light & Sound and Glow Crib Light. Advanced technology to watch over, comfort and soothe babies, with a range of personalised features and routines designed to suit every family's lifestyle.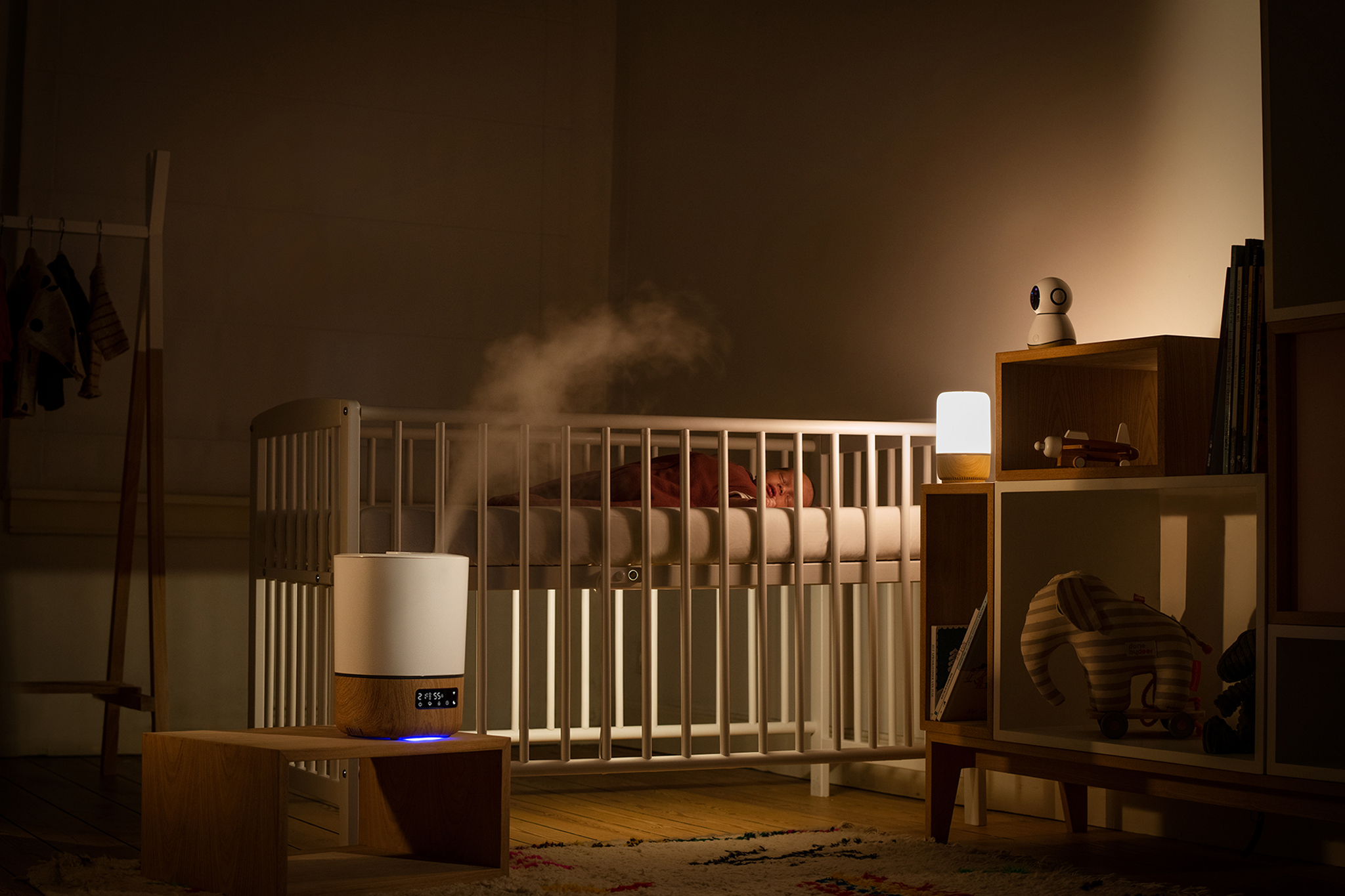 One app. Four smart products. Total Control
Connected Home is a stylish range of smart sensory nursery products that connect via one easy-to-use Maxi-Cosi Connected Home app. Smart technology is designed to watch over, comfort and soothe babies, and give parents peace of mind.
Each product is sleek, modern and packed with advanced automated routines and personalised features; parents can set specific routines & customise schedules that seamlessly fit their family life.
A range of smart sensors enables Connected Home products to seamlessly 'talk to' and interact with each other, for example when the Baby Monitor senses that baby is waking, it can automatically turn on the Soothe Light & Sound, to comfort the baby.
All four products can be controlled by the app, or voice-activated via Alexa and Google,  making it easy for busy parents to use every single day.
So smart & simple, the Connected Home range will soon feel like part of the family.
"Maxi-Cosi is proud to lead the way into a fast-growing, global category of smart nursery products. The Connected Home range answers the needs of parents today, by employing technology to ensure parents and their children enjoy the most comfortable, controllable and stylish home nursery environment, through app-based technology linked to several sensory-based products. Using the innovative all-in-one Connected Home app, parents can monitor, control and adapt any of the four sensory products, personalising features and routines to specifically suit their children and their family lifestyle. The app allows parents to 'Stay Close' 24/7, giving them peace of mind and reassurance that their child is safe, comfortable and soothed at home, at all times." 
(Robert Dresen, Marketing Director, Dorel Juvenile Europe)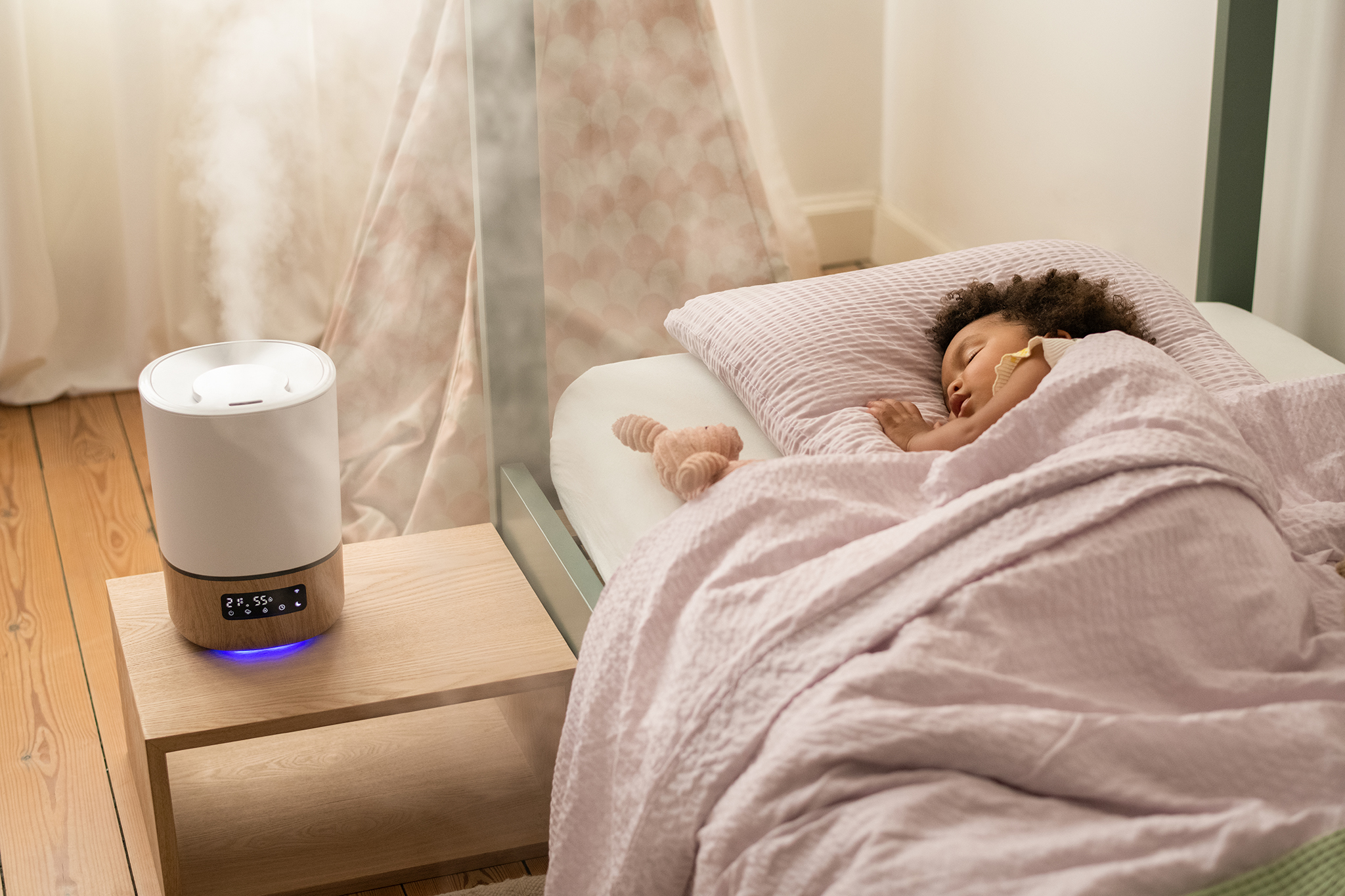 Stylish modern design
Every product in the range has been designed to complement stylish modern home interiors. Aesthetically, the sleek minimal lines, curved edges and soft, subtle natural colours, blend perfectly in a nursery to create a soothing, calming peaceful environment.
See Baby Monitor gives parents peace of mind that their baby is always safe & comfortably sleeping in the nursery. Watch live HD streaming on any device and keep a close eye on baby anytime with day & night vision, remote-controlled pan, tilt & zoom. Parents can relax knowing they'll be notified of movement, sound, temperature or humidity changes, or programme a selection of soothing noises to come on.
Breathe Humidifier ensures the nursery is always at the perfect humidity for the baby to have a soothing night's sleep. Parents can switch it on via the app from anywhere, to prep the room before bedtime and then adjust mist levels or programme auto-timers. Breathe Humidifier can also be used as an essential oil diffuser for a scented, soothing snooze.
Soothe Light & Sound is the perfect sensory experience to create a calm, relaxed nursery. Parents can personalise their baby's sleep routines with soothing lights, sounds and sleep-inducing lullabies. Or set up a routine that automatically turns Soothe Light & Sound on when See Baby Monitor senses the baby is awake.
Glow Crib Light gives parents peace of mind that their baby won't be woken when they check in on them, throughout the day or night. A smart motion detector under the crib activates a soft light to come on when anyone approaches and the subtle light automatically dims when they leave.
For more detailed product information on the Connected Home range, please see here.
--------
About Maxi-Cosi
The Maxi-Cosi trusted brand, a premium brand of Dorel Industries Inc (TSX: DII.B, DII.A),  was born in 1984. Starting with the first important task: Maxi-Cosi has carried over 50 million babies home from the hospital. Since then, the brand's safe and comfortable car seats and strollers can be found on the first day of pre-school, at birthday parties, park picnics, and every moment in between. Products that are the next best place after parents' arms. Standing by our singular promise: whatever the future carries, we carry the future.
 About Dorel Industries Inc. 
Dorel Industries Inc. (TSX: DII.B, DII.A) is a global organization, operating two distinct businesses in juvenile products and home products. Dorel's strength lies in the diversity, innovation and quality of its products as well as the superiority of its brands. Dorel Juvenile's powerfully branded products include global brands Maxi-Cosi and Tiny Love, complemented by regional brands such as Safety 1st, BebeConfort, Cosco and Infanti. Dorel Home, with its comprehensive e-commerce platform, markets a wide assortment of domestically produced and imported furniture. Dorel has annual sales of US$1.7 billion and employs approximately 4,200 people in facilities located in twenty-two countries worldwide.